23 May 2022
RED ROCKET LEADING AFRICA INTO A CLEAN ENERGY FUTURE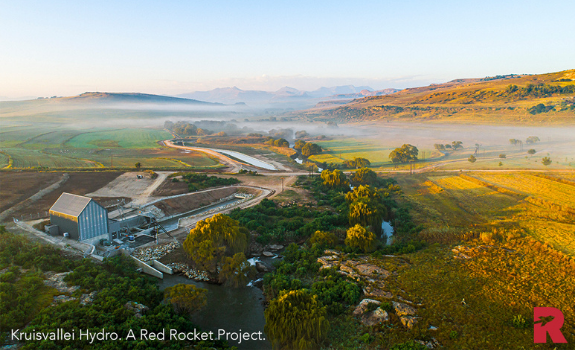 AS THE WORLD GRAPPLES WITH GROWING ENERGY NEEDS, ENERGY TECHNOLOGIES, BUSINESS MODELS, AND PROJECT DELIVERY CAN STEP UP TO DELIVER LASTING CHANGE AND INVESTMENT.
Since 1999, the African Energy Forum has led engagements between stakeholders around creating energy on the planet. So much has evolved in those twenty-three years. Alternative energy sources such as hydrogen, solar and wind began gaining traction, growing from fringe considerations to cost-effective and mainstream opportunities. Hydropower technology innovation delivered more compact and focused breakthroughs. Modular energy choices started to appear alongside industrial-scale generation, prompting new choices and paradigms for energy generations. As the world grapples with growing energy needs, energy technologies, business models, and project delivery can step up to deliver lasting change and investment.

Modern society's appetite for power is tremendous. At the start of the 20th century, global energy consumption sat at 12 128 terawatt-hours - primarily split between coal and biomass sources (Our World In Data). By the 1950s, that figure had more than doubled to 28 516 terawatt-hours, and the planet increased its reliance on coal, as well as oil, gas and hydropower.

Thirty years later, generation capacity reached 87,599 terawatt-hours, and in 2019 it stood at 173 340 terawatt-hours. This latter figure is even more astounding when considering the efficiency gains of the past two decades. For example, major economies have reduced their oil imports between 2000 and 2018 by 165mtoe (million tonnes of oil equivalent) - the combined annual primary oil demand of Germany, Australia and Belgium (IEA).

Yet African countries have not benefited as significantly from this growth, a sobering argument laid out in the IEA's Africa Energy Outlook 2019. The continent represents only 4 percent of global energy supply investment and in 2018 generated around 850 terawatt-hours. This picture is set to change as African populations increase rapidly, outpacing even China's growth during the late 20th century.

This is the opportunity Red Rocket pursues. The globe is witnessing growing African expansion and the rise of a sleeping energy giant. It represents a window to create more energy generation capacity through renewable sources and a just transition away from fossil fuels. The future of energy is in Africa, which is why Red Rocket is focused on becoming a significant contributor to the continent's future and is a proud sponsor for the African Energy Forum.


Meet Red Rocket

Red Rocket has an established and growing presence in Africa. It emerged from Building Energy, founded in Italy in 2010, and a decade later in 2020, Building Energy co-founder Matteo Brambilla led a management buyout that created Red Rocket, an African-focused independent energy producer group.

"The management buyout was completed in September 2020," explains Brambilla. "We are now a Pan African integrated IPP. We do development, we make all the arrangements in sponsoring roles and setting up deals, we do asset management, O&M and construction."

Headquartered in Cape Town, Red Rocket inherited Building Energy's African sites, such as the Kathu Solar Park in South Africa and Tororo Solar North site in Uganda. It has since expanded to 985 megawatts of capacity and was recently awarded preferred bidder for three wind projects (364 MW) under South Africa's Round 5 of the Renewable Energy IPP Procurement Programme and two Private PPA wind project awards for international Blue Chip mining houses.

Red Rocket does not niche itself to one corner of energy generation or business development. It has established solar, wind and hydro sites, working alongside investors to fund, manage and operate them. Sustainability is at the heart of Red Rocket's vision - not only sustainable energy but also forging local community relationships that ensure the sites deliver on indigenous needs while still creating continual returns on investment. Where possible and feasible, Red Rocket maintains control over ownership and operations, rather than only representing one link in the energy delivery chain.

"We prefer an integrated approach to projects," explains Matteo Brambilla. "By controlling the stakes and operations in our projects, Red Rocket remains profitable and de-risks projects. Development of energy infrastructure projects is a long-term game where delays are inevitable. You need resilience, especially in African markets where greenfield opportunities compete and align with established capacity. Our control in projects is spread across multiple areas, allowing us to create value from construction, operation and maintenance, and asset management. Red Rocket uses a blended IRR, ensuring very low tariffs with utility type of equity returns that please our shareholders while still delivering reliable and affordable energy to local consumers."

Red Rocket has staff situated across Africa, supporting a broad network of development, implementation, and funding partners.

"Collaboration is fundamental to Red Rocket's approach and management. We've earned the experience of what it takes to compete in and develop African energy markets," says Sharief Harris, Red Rocket's Head of Development.


Established Sites

Red Rocket portfolio covers 985MW of project capacity in operation, under construction or at financial close. It operates clean energy sites across a range of technologies, including solar, wind and hydro generation, and four sites represent its current flagship assets:

Kathu Solar
Kathu Solar, also known as the REISA (Renewable Energy Investments South Africa) solar farm, is based in South Africa's Northern Cape province. Located near the towns of Deben and Kathu, this 75MW began commercial operations in late 2014 and provides 179 000 MWh of clean, renewable energy every year to roughly 73 000 middle-income homes. The nearby communities of Kathu, Olifantshoek, Dibeng, Siyathemba, Babatas and Mapoteng derive power and socio-economic benefits from the site, utilising enterprise development programmes.

Capturing sunlight through 306 553 polycrystalline mono facial photovoltaic modules with a single-axis hydraulic tracking system, Kathu Solar had by the end of 2020 generated 1 130GWh of solar energy.

Roggeveld Wind
Straddling the boundaries between the Northern and Western Cape provinces in South Africa, Roggeveld Wind Farm has an installed capacity of 147MW and a current contracted capacity of 140MW. The wind farm is majority owned by Red Rocket. Located near Laingsburg, Matjiesfontein and Sutherland, the wind farm satisfies the energy needs of nearly 50 000 households and avoids 502 900 tons of CO2 emissions. Roggeveld Wind Farm was developed under the South African Renewable Energy Independent Power Producer Procurement Programme (REIPPPP). It sells its output to Eskom, the country's primary power producer.

Roggeveld Wind Farm utilises 47 wind turbines generating approximately 613 GWh per year.

Tororo Solar
Tororo Solar (formally called the Tororo Solar North Photovoltaic Power Plant) is a 10MW photovoltaic plant located in eastern Uganda, in the Tororo district near the border with Kenya and 240 km east of Uganda's capital Kampala. Tororo Solar was built with funding from Financierings-Maatschappij voor Ontwikkelingslanden (FMO) to cover the US$14.7 million construction costs, which syndicated 50 percent of the debt to the Emerging Africa Infrastructure Fund (EAIF) through a Participation Agreement. With a capacity of 10MWp, Tororo Solar generates approximately 16 GWh of clean energy per year. Red Rocket is the majority owner, and the site has a 20-year power purchase agreement.

This key solar plant utilises 32 240 photovoltaic panels over 14 hectares, helping satisfy the energy needs of 36 000 people and saving more than 7 200 tonnes of CO2 per annum.

Kruisvallei Hydro
Located along the Ash River between Clarens and Bethlehem in South Africa's Free State Province, Kruisvallei Hydro is a small-hydro site with a 4MW capacity. It generates approximately 24GWh of energy annually, catering to the energy needs of more than 1 916 households in the nearby Clarens and Kgubetswana rural communities. Red Rocket Energy revitalised the project after failed attempts by previous operators, completing construction and starting operations in 2021. The site's operators work closely with local communities to ensure fair pricing and development, and employment opportunities.

Kruisvallei Hydro will operate for 20+ years, after which a refurbishment project will extend its lifespan. The site covers around 15 hectares, diverting some of the Ash river's flow without destabilising the local environment.


Red Rocket's future

Red Rocket is blazing into the future, supporting and leading energy development opportunities across Africa. As the continent's population grows and its economies industrialise and digitise, Africa will become a linchpin in 21st-century development and progress. From manufacturing to agriculture, urbanisation to massive data centre growth, energy demand continues to grow as Africa expands.

To help meet current and future demand, Red Rocket has a pipeline of 10GW in projects. It's additionally committed to finding and delivering energy sites in the rest of Africa and will continue to grow its track record of working with funders - ensuring returns on investment while supporting the requirements and capacity of local communities. If energy is Africa's 21-century success story, Red Rocket is helping write that narrative.

"We want to establish ourselves as one of the largest independent power producers on the continent," says Matteo Brambilla. "Our objective is to reach two gigawatts of projects by 2025 and help Africa take its place in a clean energy future. As we expand our focus, we can take our funding, design, construction, operational and development expertise to every corner of Africa. What started in 2011 as an ambition to be a part of the African energy landscape is transforming Red Rocket into one of Africa's leading independent power producers."