11 Apr 2022
FINANCING DECENTRALISED RENEWABLE ENERGY SYSTEMS & THE EVOLUTION OF METRO-GRIDS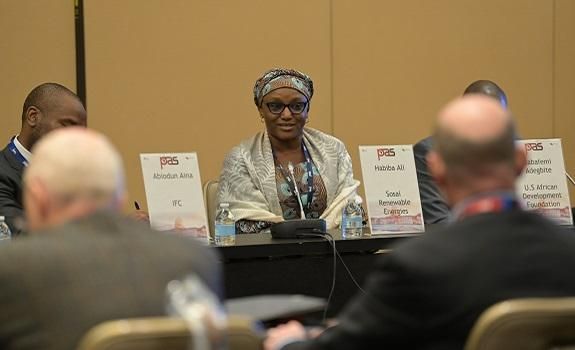 SUMMARY OF THE SESSION UNDER THE SAME TITLE THAT TOOK PLACE AT THE POWERING AFRICA SUMMIT (PAS), IN WASHINGTON DC, ON MARCH 2022.
It was discussed that the solution to the cost problem and the profitability problem in mini and metro-grids is scale. Metro-grids will allow a per unit, per-connection basis that will drive down costs by providing greater autonomy to energy consumers. Central grids do not allow affordable per month payment plans to energy consumers, but metro and mini-grids do. Affordability for consumers and subsidy programs for developers proves that the evolution of metro-grids is economical and scalable in emerging economies. The metro-grid business plan gives the power directly to consumers. The frontier of digitalization in energy access marketplaces presents a compelling space for entrepreneurs as digital solutions await deployment. If technologist entrepreneurs succeed in getting novel technology into the hands of energy consumers and utilities, the issue of scale will continue to lessen. Solving the scale problem of financing decentralized renewable energy systems requires progressive policy, innovative technology, and creative thinking from developers.

Policy implementation starts with creating buy-in with governments. During its infancy, solar and renewable energy was ignored by major government players as they did not believe in the utility-scale, which created blockades to finance the transition to renewable energy.

Developers and technologists have the duty of illustrating the importance of renewable energy and demonstrating its attainability to government stakeholders.

Innovative technology requires assessing what physical tools are available to meet the needs of consumers and how can they be more widely adopted.

Creative thinking from developers looks like adventurous investors who want to take on the market of renewable energy. Where an investor would see paucity in investment and take it upon themselves to get involved. There are cash subsidy programs available to developers to create incentivization as it allows financiers to buy down the risk of deployment. The risks that developers face in this market are financing, shipping, and entrepreneurship.

Factors that make developers successful when applying for grant funding include the energy access connections of their project, the impact in the areas of unserved and underserved communities left without grids, productive uses, the composition of management, and the viability of sustainability.

Profitability in the context of mini-grids and metro-grids returns to the notion of subsidization. Subsidies are created so when private financiers enter the market those developments will have permanence.