27 May 2022
EXPAND AND DIVERSIFY: AIIM INVESTS IN STARSIGHT'S DISTRIBUTED GENERATION SOLUTIONS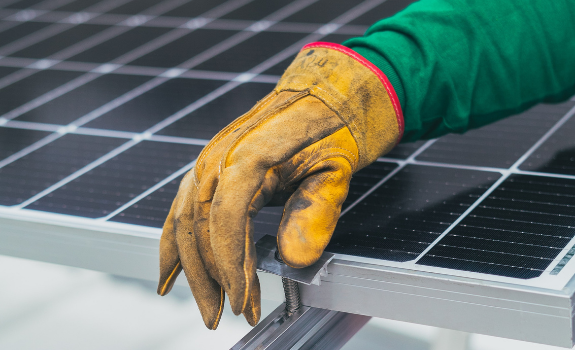 AFRICAN INFRASTRUCTURE INVESTMENT MANAGERS (AIIM) DEVELOPS AND MANAGES PRIVATE EQUITY INFRASTRUCTURE FUNDS DESIGNED TO INVEST LONGTERM INSTITUTIONAL UNLISTED EQUITY IN AFRICAN INFRASTRUCTURE PROJECTS.
Interview with Damilola Agbaje – AIIM Investment Director. AIIM actively manages investments in East, West and Southern Africa and has equity under management of USD 2.0 billion with a track record extending across seven African infrastructure funds.

What is Starsight?

Starsight is West Africa's leading commercial and industrial solar power supplier, both in terms of sites and the amount of electricity it produces. Founded in 2015, the company has delivered energy solutions at over 630 sites and installed more than 63 megawatts of generating capacity across Nigeria, Ghana, and Kenya, and is further expanding into the east African market. Customers include banks, gas stations, schools and commercial agribusiness companies.

The company delivers an end-to-end service from the initial assessment of a client's energy needs, to the installation and maintenance of a clean energy solution, with ongoing technical support. The company's proprietary smart technology optimises energy consumption enabling customers to significantly reduce their energy costs and boost their profitability, while at the same time delivering a substantial reduction in carbon emissions.

Why did AIIM decide to invest in Starsight?

AIIM is a long-term investor in Africa's energy sector with experience in executing several large-scale Independent Power Producer (IPP) projects in Nigeria and Ghana. Aware of the delays in the IPP development process and the chronically undersupplied grids in the region forcing businesses to generate their own electricity, often from diesel generators, AIIM spotted a scalable opportunity directly contributing to improved economic output. In Nigeria, for example, the available operational generation capacity stands at five gigawatts, but demand is estimated to be 20 gigawatts.

The AIIM team wanted to invest in distributed generation solutions which make electricity on site, rather than transmitting it over an electric grid from a centralised facility. While undertaking detailed market research, the team came across Starsight, a small company which had run a limited pilot at 10 sites in Nigeria, installing 300 kilowatts. In February 2018, AIIM invested an undisclosed amount for a 37.8 per cent stake in the company via AIIF3 and has since supported it with follow-on commitments.

What is Starsight's social impact on the countries in which it operates?

In Nigeria, 95 million people lack access to electricity and those who are connected to the grid suffer from regular power outages. An estimated 41 per cent of Nigerian businesses are forced to rely on diesel generators, which are expensive, inefficient and damaging to the environment. As an alternative, the cost of solar PV components has declined sharply over the past few years, so the technology is now more affordable and solar tariffs are lower than ever before.

In Ghana, where the national grid provides a more consistent power supply, switching to solar is not so much about supplementing an unreliable supply, but more about driving down energy costs. Starsight's solution addresses this by lowering energy consumption, while clients do not pay any upfront costs and are instead charged an all-inclusive monthly fee for an end-to-end service.

What makes Starsight stand out from its competitors?

Unlike its competitors, who often charge customers a per-kilowatt hour fee for simply installing solar panels, Starsight charges no upfront fees. Instead, its unique energy efficiency approach uses smart technology and data to measure its clients' energy needs and supply power efficiently. It works with customers to reduce their energy consumption, testing to find the most efficient alternating currents, adding shades to windows, changing light bulbs for energy efficient versions and putting timers in. All these small, incremental changes translate into real cost savings. Starsight estimates that its clients reduce their electricity consumption by an average of 20 to 40 per cent. In total, this has saved its customers US$2.7m and 9,474 megawatts as of October 2021.

How has AIIM added value during the holding period?

Since AIIM invested in Starsight the company has been able to scale significantly. Its team has grown from a few employees in 2017 to 150 as of October 2021, of which 97.5 per cent are Nigerian as well as 84 per cent of its management. The business has grown from less than one megawatt installed across 30 locations in Nigeria to more than 63 megawatts in more than 630 sites in Nigeria,Ghana, and Kenya.

The company has also acquired the most extensive databank in Sub-Saharan Africa for client consumption patterns. It has constituted a data analytics team responsible for translating learnings into actionable improvements in the company's value proposition. With a clear understanding of client needs, Starsight has been able to streamline its client engagement process and reduce its sales conversion timeline.

Finally, AIIM designed a framework for evaluating new markets and helped Starsight screen potential targets. Starsight initially added Ghana to its coverage in 2019 and in May 2021 it announced the acquisition of a 50 per cent stake in the East Africa operations of commercial and industrial-focused Premier Solar Group, which is active in Kenya and will be building a pipeline in Uganda, Tanzania and Rwanda over the next 12 to 18 months.

What other benefits has AIIM's involvement brought Starsight?

AIIM has invested much more than just money into Starsight. It helped the company hire an ESG Officer and implement the International Finance Corporation's sustainability reporting standards to measure and report on the company's environmental impact.

Using Starsight's clean energy solutions, businesses are able to reduce electricity consumption by 20-45 per cent as well as decrease carbon emissions and fossil fuel use by 30-50 per cent.

To date, Starsight estimates that it has reduced carbon emissions at its sites by 41,394 tons. One example is Nigeria's Nile University located in Abuja, where Starsight designed and installed a 876-kilowatt solar system on the rooftop in February 2022. Starsight estimates it will ultimately help the company offset 14,888 tons of carbon dioxide over the project's lifetime.

What's Starsight's end game?

Ultimately, Starsight wants to become the largest distributed generation provider in Africa. National grids across the continent are notoriously unreliable and electricity is more expensive than it needs to be. AIIM is working with Starsight to expand and diversify. One idea in the pipeline is to build plants to supply commercial and industrial clients and use the excess generation capacity from those to supply residential customers nearby.

How can C&I solar improve the future energy fortunes of Africa?

The commercial and industrial (C&I) solar sub-sector, which sits in the flexible space between large utility-scale solar and smaller, domestic solar, accounts for three quarters of power demand in Africa. It is essential to improving the current and future energy fortunes of the continent. Since 2010, there has been a near fifteen-fold increase in solar generation capacity across the world. But Africa only produces one per cent of global solar power generation when it has the potential to contribute 40 per cent of that supply. We have only just scratched the surface of the C&I solar opportunity here.

Looking to South Africa, what impact will the lifting of the self-generation limit have on the expansion of C&I solar across the country?

In June 2021, we saw the South African government lift the restrictions on the amount of electricity private companies are allowed to generate without a licence from one megawatt to 100 megawatts. They are also allowed to use the grid to transmit their electricity. This has paved the way for IPPs to meet the growing electricity demands of South Africans.

The shortfall in South Africa's current energy supply to the grid is an issue the government has sought private sector intervention to resolve. Private companies can help bridge that gap and supply clean and cost-effective energy through renewables like solar. We anticipate growth of at least 500 megawatts per year for distributed solar capacity in South Africa and we expect additional capacity from wind and other renewable sources.

Here at AIIM, we plan to use our longstanding IPP development track record and our customer-facing experience through Starsight to help build the next generation of C&I solar platforms across the country and wider continent.

What role does the private sector need to play in unlocking the C&I solar opportunity across the continent?

As of 2014, 21 countries in sub-Saharan Africa had state-owned utilities with no private sector participation. This aversion to private sector involvement is waning but has led to sclerotic state systems and driven up the cost of energy production.

Investors are, however, gaining a better understanding of the continent's investment topography, more accurately assessing risk and awakening to the development potential public-private partnerships (PPPs) can create. This is reflected in the effective tripling in the value of PPPs in the decades between 2000 to 2009 and 2010 to 2019.

We must temper the optimism of progress with the tonic of the challenge ahead. Funding the US$55 billion investment gap in African energy infrastructure requires an effective, robust regulatory framework across the board, attracting private capital and closing the gap in access to energy. South Africa is banging the drum for the continent to march to its beat.